The Ink Business Unlimited® Credit Card and Ink Business Cash® Credit Card are one of the top small-business credit cards that offer great reward categories and the best Ultimate Rewards without an annual fee. If you're a small-business owner or self proprietor, there's a new increased sign-bonus on these two top cards — and it's worth $250  or 25,000 points more than the previous offer.
If you are a sole proprietor doing a side hustle, you can still get one of these cards.
Step By Step Guide to Chase Ink Card and Getting Approved – Worth up to $1250
The Ink Business Preferred also offers the top sign-up bonus of 100,000 points after you spend $15,000 in the first 3 months.
Chase Ink Unlimited Benefits
The Ink Unlimited is a great card for small business owners who has regular day to day spending. It offers a competitive 1.5X points on all purchases while charging $0 annual fee. Plus, the card offers a broad range of business, travel, and consumer benefits that provide lots of additional value.
Benefits of Ink Unlimited include:
75,000-point sign-up bonus (worth at least $750) after $7,500 spend in 3 months
$0 annual fee
0% Intro APR on Purchases for the first 12-months
Earn unlimited 1.5% cashback on every purchase made for your business.
Rental car primary theft and collision damage coverage
Purchase Protections — 120 days of damage and theft protection, one-year of extended warranty protection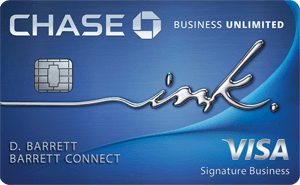 Learn How to Apply
Ink Business Unlimited Credit Card
Welcome Bonus
Earn $750 or 75,000 bonus cash back after you spend $7,500 on purchases in the first 3 months from account opening Earn unlimited 1.5% cash back on every purchase made for your business
The Ink Cash offers some of the most valuable spending category bonuses available. You can earn 5X, 2X, or 1X points per dollar, depending on the purchase:
5X points per dollar — office supply stores and internet/cable/phone service providers
2X points per dollar — gas stations and restaurants
1X points per dollar — everything else
However, the caveat is that Chase caps the two bonus categories to the first $25k in combined total spend each account anniversary year. After that, cardmembers earn 1X on every purchase.
Some of the most notable benefits of the Ink Cash include:
75,000-point sign-up bonus (worth at least $750) after $7,500 spend in 3 months
$0 annual fee
Employee cards at no additional cost
Rental car primary theft and collision damage coverage
Purchase Protections — 120 days of damage and theft protection, one-year of extended warranty protection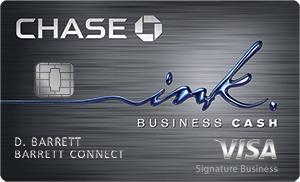 Learn How to Apply
Chase Ink Business Cash Credit Card
Welcome Bonus
Earn $750 or 75,000 bonus cash back after you spend $7,500 on purchases in the first 3 months from account opening Earn 5% cash back on the first $25,000 spent in combined purchases at office supply stores and on internet, cable and phone services each account anniversary year Earn 2% cash back on the first $25,000 spent in combined purchases at gas stations and restaurants each account anniversary year